STEM Council hosts the First Annual STEM Symposium in Nothern VA
Dr. Seshaiyer is a member of the STEM Council in Northern Virginia that provides a one-of-a-kind forum for effective interaction between government, industry, non-profits, and academia to exchange knowledge, experience and strategic ideas on STEM in the national capital region (NCR), and to identify opportunities for members of the council to make a difference in STEM Education and Employment in the NCR. ( Read interview with Dr. Seshaiyer ). This forum coordinated by Washington Exec organized the first Annual STEM Symposium for the National Capital Region (NCR)! This all-day free event included exciting exhibits, inspiring speakers, and panel experts who will highlight just how vital it is to engage parents, students, teachers, corporate/government execs and non-profit representatives alike in Science, Technology, Engineering, Mathematics (STEM) education and careers. Over 1,500 students, parents, teachers, corporate/government executives, and non-profit representatives attended the event. The symposium provided the opportunity for K-12 students in the National Capital Region (NCR) to showcase their achievements in STEM, and to interact with key business, education, non-profit and government leaders through real-life applications and presentations about how science, technology, engineering and mathematics impacts our community. From an industry leader perspective, professionals had the opportunity to establish and strengthen critical relationships between business and education professionals in our region. Leaders were also be able to gauge the STEM proficiency of the local prospective STEM pipeline. Dr. Seshaiyer joined members from Google, Northrup Grumman, NGA in an invited panel on "The Workforce of Tomorrow Are Your Kids Today: Local STEM Leaders Talk K-12 Pipeline at STEM Symposium" .

Design Thinking Workshop to Promote Innovation and Creativity
Recently Dr. Seshaiyer delivered a 10-day workshop together with two other GMU faculty (from Engineering and Education) called "Innovation Design" that was in collaboration with Pohang University of Science and Technology (POSTECH) which is one of the leading science and technology institutes in Korea, to a group of undergraduate science and engineering students. The workshop promoted design thinking, creativity, and project-based teaching and assessment practices with undergradaute engineering students as they worked to apply their discipline specific knowledge to solving real-world problems. The workshop was co-designed and delivered with Dr. Kwan Hong Lee (a graduate from MIT Media Labs) and Dr. Daniel Suh (POSTECH).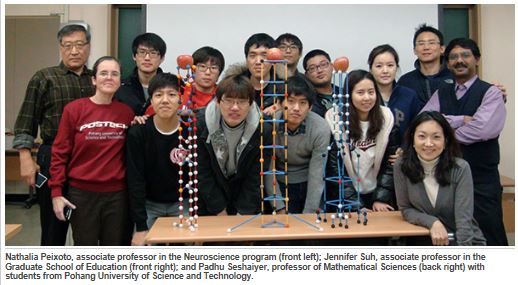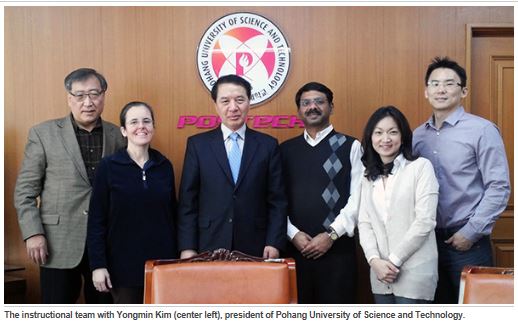 What is collaborative Learing all about?
The STEM Accelerator Program


Recently the Washington Executive interviewed Dr. Seshaiyer about his views on STEM and its potential impact on students. The article can be found at:
here.
NSF-USAID PEER Program: NMAIST and GMU
PEER Science is a competitive grants program that invites scientists in developing countries to apply for funds to support research and capacity-building activities on topics of importance to USAID and conducted in partnership with their NSF-funded collaborators. Areas in which both NSF and USAID have strong mutual interests include, but are not limited to Food security topics such as agricultural development, fisheries, and plant genomics; Climate change impacts such as water sustainability, hydrology, ocean acidification, climate process and modeling, and environmental engineering. Other development topics including disaster mitigation, biodiversity, water, and renewable energy. The PEER Science Cycle 2 Grant recepients can be found at PEER Science Awardees Website . The program received hundreds of applications and about 50 awards were made. Tanzania received an award with Dr. Padmanabhan Seshaiyer as the US collaborator.

Dr. Padmanabhan Seshaiyer collaborated with the Nelson Mandela African Institute of Science and Technology on creating a new Partnerships for Enhanced Engagement in Research (PEER) Science research program on Computational Mathematics, Modeling and Analysis of Biological, Bio-inspired and Engineering Systems. The proposed work will help increase STEM capacity in Tanzania through research projects that will benefit new advances in potentially providing scientific solutions to real-world problems from the areas of food security, environment, education, water and global health. Through these projects the participants will be able to work directly with the appropriate governmental agencies in Tanzania, to collect data that will help validate their computational models and help create better infrastructure. The proposed work will also help create the much needed awareness to pursue multidisciplinary real-world problem solving using STEM and in turn help increase STEM majors in the country. The proposal started with a workshop that was presented by Dr. Padmanabhan Seshaiyer. More details about the workshop can be found NMAIST-GMU PEER Science .


US National Commission on Mathematics Instruction
The national adhering body to the International Commission on Mathematical Instruction (ICMI) is the U.S. National Academy of Sciences (NAS). The NAS, through the NRC, appoints the USNC/MI to conduct the work of the ICMI and foster other international collaborations in mathematics education. The National Research Council (NRC) Board of Mathematical Sciences, MSEB, CBMS, and NCTM provide nominees for selection to the USNC/MI. Dr. Seshaiyer from George Mason University was selected in 2013 to join this US Commission along with members from prominent universities. More details can be found in a recent article on his appointment here .


Aspiring Summer Scientist Internship Program
The George Mason University ASSIP is a program for high school and undergraduate students to gain research experiences working with faculty from Mason at the Prince William and Fairfax campuses of GMU. I mentored five students in 2012 summer (three high school students and two undergraduate students) and these projects went on to win some prestigious local and national awards. These include winning the poster competition at the Shenandoah Undergraduate Mathematics and Statistics Conference in Applied Mathematics (Joseph Renaud), the ASSIP art project (Alexander Zeller), fourth place in the 2013 Intel International Science and Engineering Fair in the Mathematics category as well as becoming the Seimens Regional Finalists in 2012. I am most proud of the publication that resulted from this latter work with two high school students from Thomas Jeffeson High School for Science and Technology which was "on the stability of lung parenchymal lesions with applications to early pneumothorax diagnosis" published in the peer-reviewed journal "Computational and Mathematical Methods in Medicine." Some articles on this work with me was published in WashingtonExec and Fairfax County Public Schools .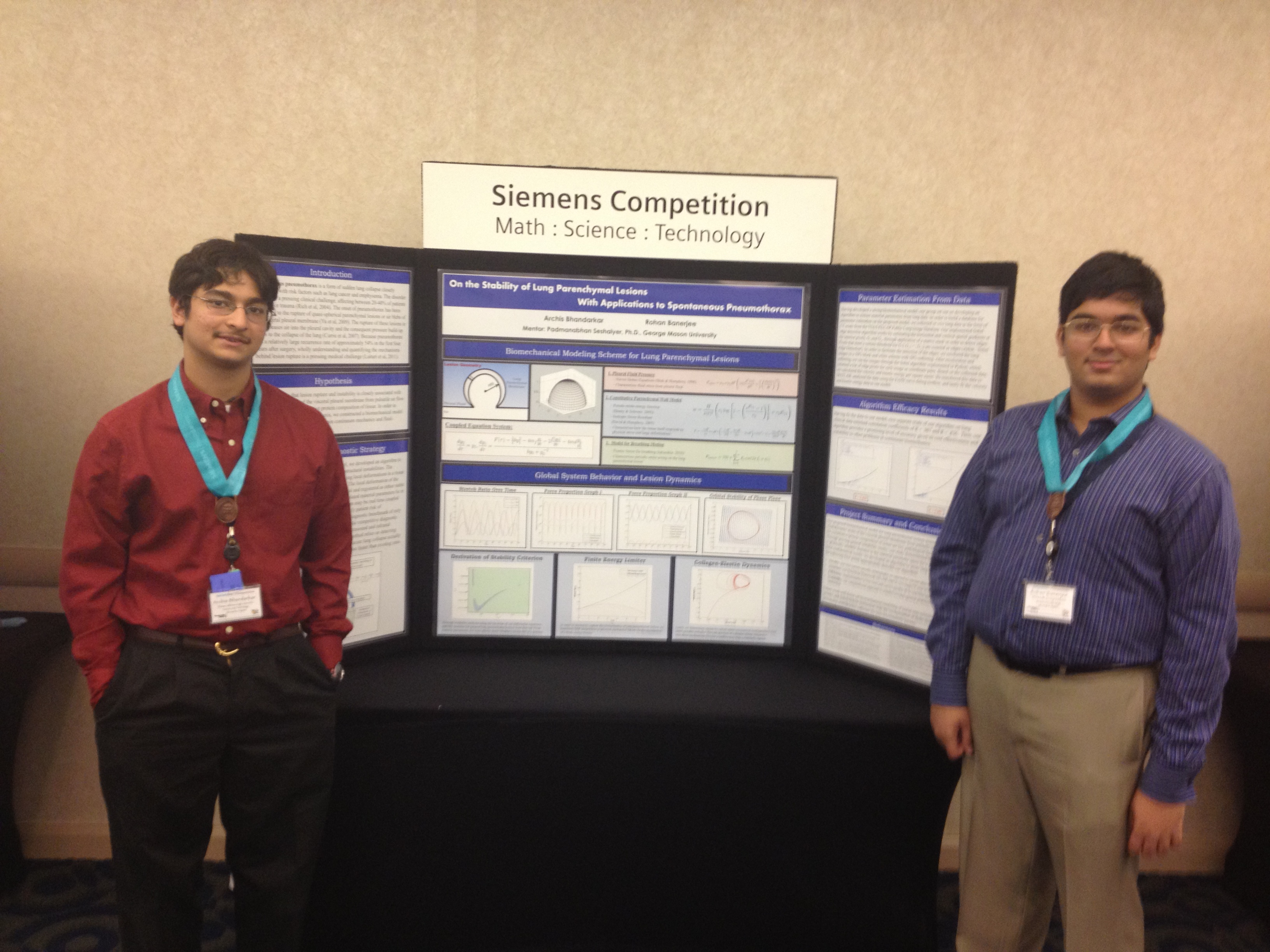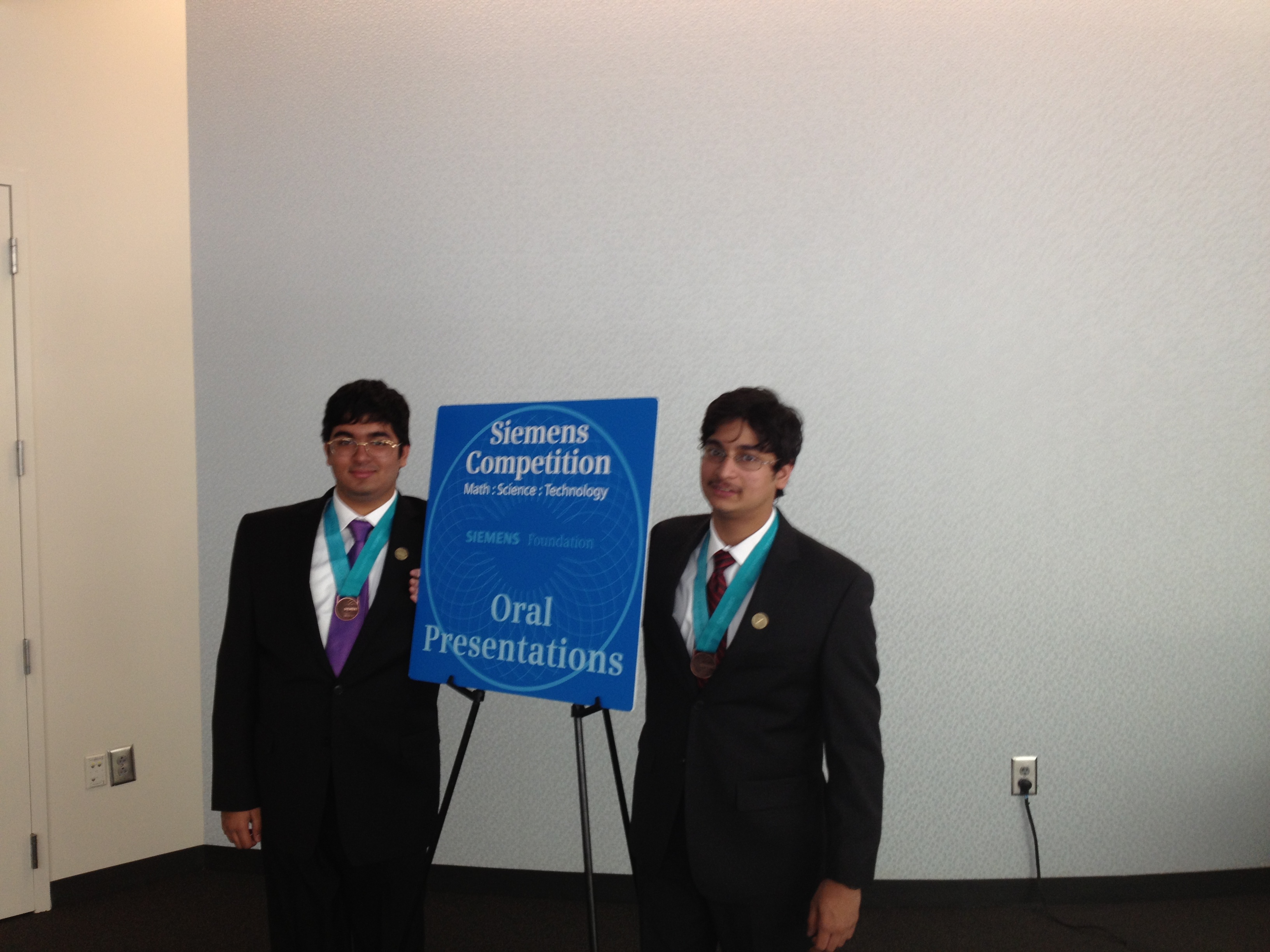 OSCAR Mentoring Excellence Award
Each year the Office of Student Scholarship, Creative Activities, and Research (OSCAR) awards outstanding faculty mentors for their positive impact on current and former Mason students and for having demonstrated support and engagement of undergraduate scholarship at Mason. I was happy to selected as one of the 2013 OSCAR Mentoring Excellence Award recipients (see OSCAR Mentor Excellence Award )

TEDx GMU Talk
I was invited to give a TEDx talk at George Mason University. I selected the topic of Mathematics: A Multidisciplinary Universal Language , something that I strongly believe in and there is a great need to promote the awareness of this topic to the next generation problem solvers and creative thinkers. I had the privelege to join some great speakers who are pictured with me below.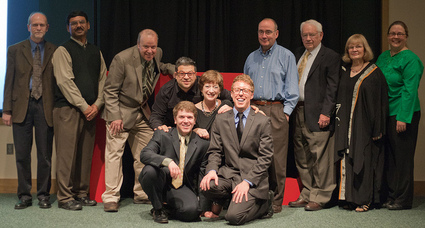 Volunteer Lecturer Program
The Volunteer Lecturer Program (VLP) that is sponsored by the Developing Countries Strategy Group of the International Mathematics Union (IMU) , in cooperation with International Center for Pure and Applied Mathematics (CIMPA) and the U.S. National Committee for Mathematics. As a part of this program, I was able to participate in the Volunteer Lecturer Program at The Nelson Mandela African Institute of Science and Technology, Arusha (NM AIST-Arusha) twice (Aug 8, 2011 - Sept 2, 2011 and Aug 9, 2012 - Sept 6, 2012). More details about my participation can be found at


(Picture with the NM AIST-Arusha Vice Chancellor Prof. Burton LM Mwamila and of NM AIST-Arusha (to my left) and Prof. Leif Abrahamsson Mathematics Programme Director, International Science Programme (to my right) along with visiting delegates from the East African University Mathematics Programme, members form the Government of South Korea and faculty from NM AIST-Arusha.)




2011 GMU Teaching Excellence Award

The GMU Teaching Excellence Award is an institutional recognition of the significant work that faculty members devote to course planning and preparation; curriculum development; and innovative teaching, advising, and undergraduate and graduate mentoring. I am happy to share with you that I am one of the recepients of the 2011 Teaching Excellence Award for outstanding contributions to teaching at George Mason University. ( GMU Gazette article ). Pictures with the President of GMU, Dr. Alan Merten and the Director of the Center for Teaching Excellence, Dr. Kim Eby.




GMU Research Experiences for Undergraduates

The Department of Mathematical Sciences at George Mason University hosted a multidisciplinary undergraduate research program in computational mathematics and nonlinear dynamics of biological, bio-inspired and engineering systems . During the summers of 2009-2010, this first-time summer program at GMU exposed sixteen qualified mathematics undergraduate students and two K-12 teachers to advanced topics in mathematics, problem-solving techniques and multidisciplinary applications. Selected problems ranged from Reconstruction of Protein networks and Aneurysm mechanics to Modeling of Micro Air Vehicles, Neuronal field models, Porous substrates and Materials engineering applications. The overall goal of this program is to encourage students and teachers to learn by discovery and enhance their understanding of the multidisciplinary role of mathematics in engineering, science and medicine. We received funding from the NSF again to host the program in the summers of 2012-2013. In summer 2013 we were able to support 13 new participants through this undergraduate research program (see 2012 program flyer ). More details about the program can be found at: GMU REU Program . Also, see articles on the program covered by various media in the last three years.





USA Science and Engineering Festival: Nifty Fifty

With a mission to re-invigorate the interest of our nations youth in science, technology, engineering and math (STEM), the most compelling, exciting, educational and entertaining science gatherings in the United States will happen at the USA Science and Engineering Festival . As a part of this program, a select group of noted professionals who were chosen from over 500 submissions from 4450 partner organizations, will fan out across the Washington, DC area next October to speak about their work and careers at various middle and high schools. Dr. Padmanabhan Seshaiyer was selected as one of the Nifty-Fifty speaker in 2010-2011 (Mason Media). See also the Jan/Feb 2011 article SPAN Magazine. In 2012, he has been again selected as one of The Nifty Fifty (times 2) speaker in 2011-2012. An article about his recent lecture at Park View High School was covered by Leesburg Today . To learn more about the program and details of the speaker bios go to Nifty Fifty .