Workshop on Combinatorics, Enumeration, and Invariant Theory (WCEIT)
Supported in part by a grant from the Office of Naval Research (ONR).
---
About the workshop
WCEIT will be held on Friday and Saturday March 19 -- 20, 2010, at the Department of Mathematical Sciences at George Mason University (GMU) in Fairfax, Virginia. The talks will take place in Science and Technology I (STI) (which looks like this from the outside), in rooom 242, the designated Seminar room for the Department of Mathematical Sciences.
Our principle invited speaker will be Prof. Victor Reiner at the University of Minnesota, who will be giving two 50 min. talks, one on Friday March 19th, and the other on Saturday March 20th.
The WCEIT constitutes the third and the last part of the GMU Max and Rose Lorie Lecture Series, where the first two parts consist of two visits by our main speaker, Prof. Reiner, who will visit GMU for two days each time, giving 50-minute colloquium talks on January 29th and February 19th, 2010.
---
Invited participants and schedule
Complementary invited participants include: Joseph E. Bonin (GWU), Alexander Burstein (Howard), T. S. Michael (USNA), Ezra Miller (Duke), Keith A Pardue (NSA), Nathan Reading (NCSU), Robert W. Robinson (UGA), Bruce Sagan (MSU/NSF), Louis Shapiro (Howard), Seth Sullivant (NCSU).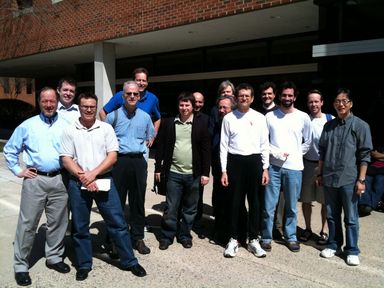 Thanks to Art Drisko (and his IPhone!) for having the above photo taken. -- From left to right we have: Bob, Seth, Geir, Joe, Walter, Alex, Vic, Keith, Jim, Lou, Nathan, Ezra, Art and Sangwook. Bruce and T.S. Michael are missing from the photo.. -- Thanks to you all for a very nice workshop. We look forward to repeat it soon!
---
Some practical info
---
Organizers: Geir Agnarsson, Rebecca Goldin, Sangwook Kim, Jim Lawrence, Walter Morris, Stephen Saperstone, Thomas Wanner, all faculty in the Math Department of GMU.
---